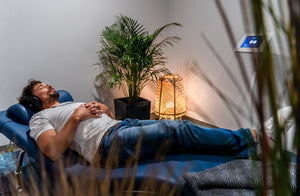 Powerful tool for rehabilitation
As an additional service or as to a source of extra income for all the experts.
Complete your toolkit for stress-related and neurological symptoms with Neurosonic. You can save your own resources and provide support for rehabilitation with a new type of tool that has already produced excellent results for hundreds of professionals in various fields.
Stress-related symptoms are difficult to trigger through a populous mind. Neurosonic produces a low-frequency vibration that, as a natural mechanism, has a calming effect on the autonomic nervous system and especially on sympathetic activity through the body. The vibration effectively relaxes and calms the nerve pathways in the alarm state, allowing the body and mind to recover.
Neurosonic is used by hundreds of experts in psychotherapy, physiotherapy, healthcare and rehabilitation. Relevant areas of use are the relief of sleep disorders, stress, anxiety and mood symptoms, and the promotion of relaxation, body awareness and metabolism. Excellent results have been obtained in neurological symptoms and in the rehabilitation of the elderly and the disabled.
What does Neurosonic affect?
Any questions? Get in touch via chat, right away!
Multi-functional and powerful
Professional recliner
170x77 cm
The pearl of the Neurosonic product family with a powerful restorative and relaxing effect. Many professionals in various fields use our Pro chair to complement their services.
Comprehensive range of programmes
You can use the mobile application to easily select ready 10-40 minute programmes for relaxation,
activation, and recovery.
We let experiences speak for themselves
We hear every day how Neurosonic has helped our customers to feel better. The positive feedback has been impressive. See how many lives have taken on a new direction.
Testimonials